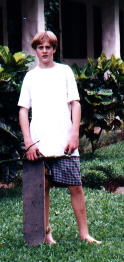 On May 22, 1999 a group of people gathered at the future skatepark site for a
groundbreaking, officially starting off the construction of the park. The
emotional ceremony was attended by Carson's family and close friends as well
as others instrumental in the development of the park. Members of the
Healdsburg City Council, Parks and Rec Commission, Planning Commission, a
representative of State Assembly member Virginia Strom-Martin, as well as
other interested parties were in attendance.

City Council member and skatepark committee member Cathy Harvey recounted how Carson had contacted her 3 years ago about forming a skatepark but their phone messages crossed and she never spoke with him about it.

Several people spoke about the "miracle" of the formation of this park that has occurred over these last 3 years. Carson's mother, Pat (Cookie), Carson's brother, Garrett, and Carson's father, Chick, jointly turned the first scoop of dirt.